Avocado, Citrus & Feta Salad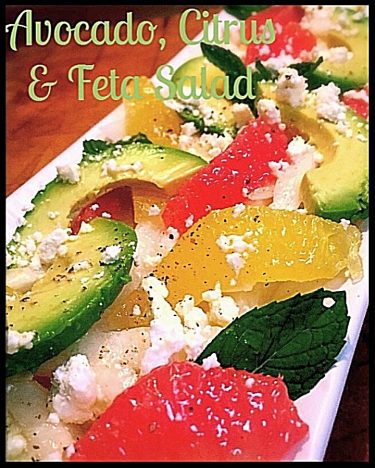 Recipe provided by Chef Crusco Catering in Austin, TX.
Ingredients – Salad
1 large Avocado – peeled and cut into 1/4 inch slices
1 small Jicama – peeled and cut into 1/4 inch sticks (3-4 inches long)
1 large Grapefruit – peel (save the juice), cut within the skin taking only the flesh segments called supremes
1 large Navel Orange – peel (save the juice), remove supremes same as above
1 Pomelo – peel (save the juice), remove supreme same as above
4 tbsps. Feta Cheese – crumbled
10 mint leaves – for garnish
Sea Salt & Pepper – to taste
Ingredients – Citrus Vinaigrette
Juice from all 3 Citrus above (use only 1/4 cup)
Sea Salt and fresh ground Pepper – to taste
Directions:
Prepare the Jicama and Avocado slices. Set aside. Then start peeling and supreming the citrus. Remember to keep all the juices so best to do this step above a bowl. The juices will be used for the Vinaigrette.
Using a sharp knife, peel the citrus removing all of the bitter white pith. Working over a small bowl, cut in between the membranes (i.e. skin) to release the sections into a bowl.
Squeeze the membranes over the bowl to extract half of the juice.
For the Vinaigrette add the citrus juice to a large bowl and season with salt/pepper.
Adding drop by drop to start, gradually whisk in all extra virgin olive oil (EVOO). Whisk until dressing is thicker and glossy. Taste and adjust seasoning with salt/pepper and more citrus juice if needed.
To make the salad, add the Jicama sticks as a bed to the plate or platter. Add the Avocado, Citrus Supremes and Mint throughout the salad. Sprinkle the Feta Cheese all over.
Spoon the Vinaigrette on the salad and season lightly with salt/pepper. Enjoy!
* The dressing can be prepared ahead and refrigerated in a plastic container for up to 10-12 days.