French style Scrambled Eggs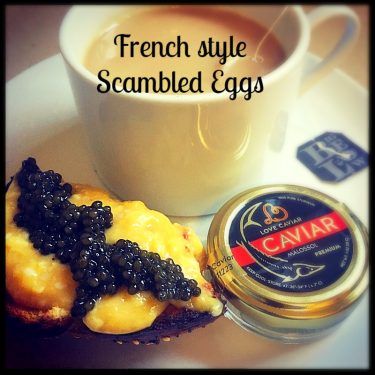 Recipe provided by Austin Personal Chef: Carlos Crusco
Ingredients:
8 Eggs

Salt & Fresh Ground Pepper

4 tsps. water or milk

2 tbsps. unsalted butter

2 tbsps. cream
Directions:
Place eggs, salt and pepper, and water (I like water as it keeps it lighter, especially when finishing with dairy) in a mixing bowl and beat for 20-30 seconds.
Add the butter to a saute pan making sure it covers the bottom and sides of the pan. Pour in the egg mixture.
Cook over moderately low heat, stirring slowly and continuously with a rubber spatula. Make sure to move the spatula all over the bottom of pan constantly moving the egg mixture around.
Nothing will seem to happen for the first 2-3 minutes but immediately the eggs will begin to thicken into a custard like consistency. Continue cooking, moving pan on and off heat, until they have thickened to your liking (3-4 more minutes).
Remove from heat immediately as the eggs will continue to cook slightly.
Add the cream (which stops the cooking) and stir until combined into a rich egg custard. Season to taste with salt and pepper.
To serve simply, arrange on plates and garnish with parsley. Or take it a step further and place upon a toasted bagel and top with delicious caviar (as pictured).  Enjoy!