Grilled Quail & Mojo Picon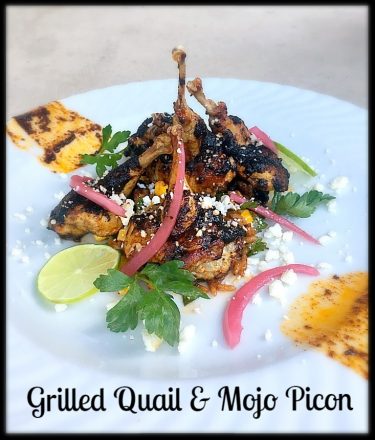 Recipe provided by Austin Personal Chef: Carlos Crusco
Ingredients:
Mojo Picon
2 dried New Mexico Chiles

2 dried Ancho Chiles

1 dried Chipotle Chile
4 Garlic cloves
2 tbsps. Pimenton (smoked Spanish paprika)
2 tsps. Cumin
2 tsps. Salt
1 cup Olive oil
3 tbsps. Vinagre de Jerez (Spanish Sherry Vinegar)
Main Dish
* Quail Knots are just the leg and breast meat onto the leg bone

Kosher Salt & freshly ground Black Pepper

1 lime – sliced into very thin rounds
4 oz. Queso Fresco – crumbled
Fresh Cilantro or Parsley
Directions
Preheat saute pan on med-high heat. Place the dried chiles in the pan and toast for a few minutes. Remove.
Process the chiles, garlic, pimenton, cumin, and salt in a food processor, occasionally scraping down sides of bowl, until a smooth paste forms. With machine running, drizzle in oil and process until well blended. Add Sherry and 1-2 tsp. water and process to blend. Taste and season with salt if needed.
Preheat half the grill on med-high heat and the other half on low. Clean and lightly oil the grate.
Season quail with salt/pepper and place on the grill for 3-4 minutes. Flip over and cook for 1 minute. Remove from high heat and place on the other half of the grill that is on low.
Immediately brush on the Mojo Picon Chile sauce, cover the grill and cook for 3-4 minutes.
Then flip over, brush more sauce onto the quail, cover grill and cook again for 3-4 minutes or until cooked through. Check with an instant read thermometer until you get to 150-155 degrees. Remove from heat, tent and right before serving add more Mojo Picon onto the quail.
To serve, add 5 quail knots onto each plate. Garnish with pickled onions, lime, cilantro & Queso Fresco. Enjoy!