Heart Shaped Raspberry Cookies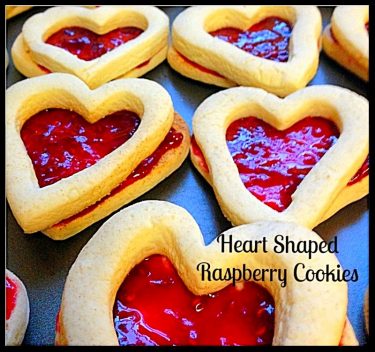 Recipe provided by Austin Personal Chef: Carlos Crusco
Ingredients:
7 oz. Butter
7 oz. Sugar
2-3 tbsp. Cognac, Brandy or even Cointreau will work
1 tsp. Vanilla extract
1 Lemon – zest only
1 Egg
3 yolks
1.75 cups Corn starch
5 oz. all-purpose Flour (and more when kneading/forming the dough)
1 tsp. Baking powder
1 pinch of Salt
Raspberry Marmalade (Bonne Mamam is my favorite)
Directions
Pre-heat oven to 375°C and prepare a parchment covered sheet pan.
In the bowl of a standing mixer with the paddle attachment, cream the butter and sugar until light in color and fluffy. Scrape down sides of bowl. Mix more until thoroughly combined.
Add Brandy, extract, zest, and continue mixing at medium speed until combined.
Add egg and yolks, one at a time, until well combined and fluffy.
Add dry elements (corn starch, flour, baking powder, & salt – previously sifted) in batches.
When dough is formed cover with saran wrap and refrigerate for one hour minimum.
On a floured worktop, roll out the dough (1/4″ thick), and cut heart shaped figures with a cookie cutter. For each 2 cut heart shapes, cut out a smaller heart shape in one of them (this will be the window).
Move to parchment covered sheet pan. Bake until slightly golden (about 10-12 minutes).
Gently transfer cookies to a wire rack until cool. Once cool, spread some raspberry marmalade on one of the cookies and gently place the other cookie on top. Press lightly but firm.
 Lightly dust with POwdered Sugar and enjoy over coffee or tea with your loved ones!