Pancetta & Egg Pasta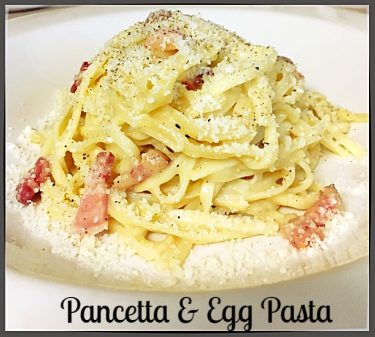 Recipe provided by Austin Personal Chef: Carlos Crusco
Ingredients:
1 tbsp. EVOO

6 oz. Pancetta – chopped into cubes

10-12 oz. fettuccine, bucatini, or spaghetti

Kosher Salt

1 tsp. freshly ground black pepper

2 egg yolks

1 large egg

1-2 oz. Pecorino – grated
Directions
In a saute pan over medium-high heat, combine oil and pancetta and sauté until pancetta is crisp and golden. Using a slotted spoon, transfer pancetta to paper towels.
Cook pasta in a large pot of boiling salted water until just tender but still firm to the bite. Drain pasta, reserving 1.5-2 cups of pasta cooking water.
Meanwhile, add pepper, yolks, eggs and half the Pecorino to a bowl and whisk to combine. Add 1/2 cup of the reserved pasta water to the egg mixture a little at a time so you don't scramble the eggs.
Add drained pasta to a bowl and toss vigorously with tongs to coat. Add 1/2 cup reserved pasta cooking water and toss to combine. Add the pancetta and the egg mixture a little at a time.
Continue adding more pasta cooking water, 1-2 Tbsp. at a time, until sauce thickens and coats pasta.
Transfer pasta to warmed bowls and serve with more Pecorino cheese and freshly ground pepper. Enjoy!
*Note: Click Here for a Spanish version of this Italian dish!