Smashed Potatoes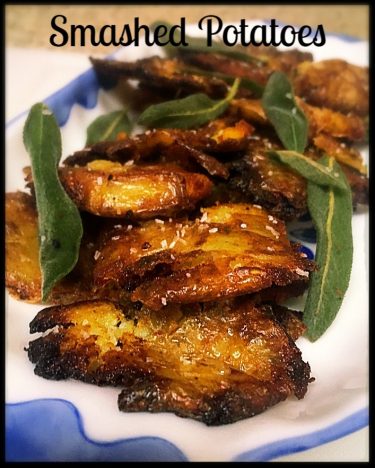 Recipe provided by Chef Crusco Catering in Austin, TX.
Ingredients
20 Baby Dutch Creamer Potatoes – small circles
6-8 tbsps. Olive Oil
Sea Salt and fresh ground Black Pepper –  to taste
5-6 sprigs Sage – fried in leftover olive oil
Directions
Prepare a large bowl with ice and water. Heat a large pot of salted water to a boil. Add in the potatoes. Cook until the potatoes are fork tender (maybe 6-8 minutes).
Remove immediately and p

lace potatoes into the ice-water for about 5 minutes or until cool. Remove and pat dry with paper towels. Once dry place 1 or 2 potatoes in between a kitchen towel and using the palm of your hand gently push down onto the potato to flatten it out into a disk. Remove and repeat with the rest.

Place a heavy saute pan over med-high heat. Pour in oil and heat until it shimmers slightly. Season potatoes with salt/pepper and p

lace that seasoned side into the hot oil.

Pan-fry potatoes until well-browned making sure to season the other sides with salt/pepper. Turn over and cook the other side until brown and crisp. 

Once cooked through remove onto a paper towel lined plate. Season again and set aside to cool off.
Using the leftover oil, fry the sprigs of sage (1 minute) so they crisp up. Use for garnish and eat them too – they are crispy, savory and delicious!

Serve family style by placing potatoes on a platter. 

Garnish with sage sprigs. 

Enjoy!