Spinach, Pear & Blue Cheese Salad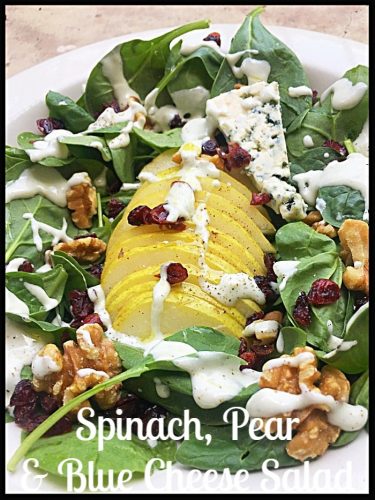 Recipe provided by Chef Crusco Catering in Austin, TX.
Ingredients – Salad (8 servings)
1 Container Fresh Spinach
1 Anjou Pear – sliced evenly to fan out on the salad
Small wheel Danish Blue Cheese – cut into small wedges
1/2 cup Cranberries
1/2 cup Walnuts – lightly toasted in a saute pan
Sea Salt & Fresh Ground Pepper
Ingredients – Lemon & Blue Cheese Dressing
3 tbsps. Sour Cream
1-2 tbsps. Lemon Juice
2-3 tbsps. Blue Cheese – crumbled
2-3 tbsps. EVOO
1-2 tsps. Water – to thin out if too thick
Salt/Pepper
Directions:
First make the Dressing. Add the Sour cream to a bowl along with Lemon juice and whisk to combine. Add the Blue Cheese crumbles and continue whisking and mashing down on it to mix into the dressing.
Slowly add the EVOO and whisk continuously. Season with Salt/Pepper and thin out with water if needed.
To make the Salad, add the Spinach to a large plate or platter. Place the fanned out Pear in the middle with the Blue Cheese wedge off to the side. Sprinkle the cranberries and walnuts all over the salad.
Drizzle the entire Salad with the Lemon-Blue Cheese dressing. Season with Sea Salt and Pepper. Enjoy!