Blackberry & Thyme Sorbet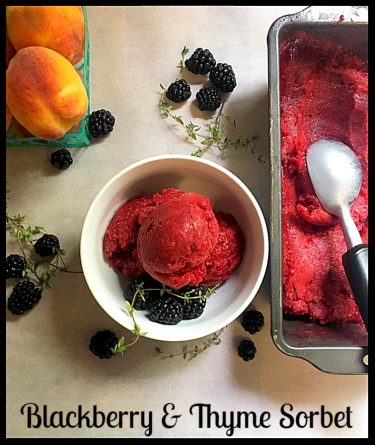 Recipe provided by Austin Personal Chef: Carlos Crusco
Ingredients
6 cups fresh Texas Blackberries (leave out 12 for garnish)

1.5 cups Sugar

3 cups Water
6 Sprigs – Fresh Thyme
6 tbsps. Lemon juice
Fresh Mint
Directions
In a large pot over medium-high heat, combine the water and sugar. Bring to a boil and cook, stirring occasionally, until the sugar dissolves and the syrup is clear, about 1 minute.
Take the pot off the heat, add the thyme and allow to steep for 20-30 minutes. Once steeped, remove thyme from the pot and add the blackberries.
Bring the syrup mixture and blackberries to a boil over medium-high heat. Once boiling, reduce the heat to medium-low and simmer until the berries are soft and beginning to dissolve, about 3-4 minutes.
Once cooked, remove from the heat and strain the berries through a fine-mesh sieve into a bowl, pressing on the berries with the back of a large spoon. Discard the blackberry pulp and seeds.
Add the lemon juice to the blackberry syrup and stir to combine thoroughly. Pour the mixture into a plastic or metal bin and refrigerate until chilled (about 3-4 hours minimum or overnight).
Pour the mixture into an ice cream maker and freeze according to the manufacturer's instructions.
Transfer the sorbet to a freezer-safe container and freeze until firm (about 2 hours minimum or up to 3 days), before serving.
To serve, scoop a couple of balls into a bowl. Garnish with whole blackberries and fresh thyme. Enjoy!