Why Spend Your Precious Time Cooking?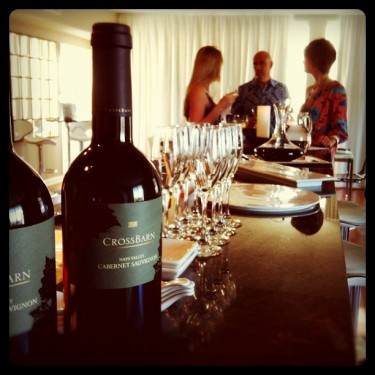 The best present I recently received was rediscovering why I'd fallen in love with cooking in the first place. Many times when preparing dinners for clients or making a nice dinner for myself, family, friends, or a special woman, it turns into something unique. It turns into an opportunity to share myself; to share an innately creative and peronal act that fosters more than just an appreciation for good food.
So, just this past weekend all I could think about was this amazing dinner I was going to make for me and my friends! To start off the dinner I served a ridiculously good ice cold wedge salad. The salad was dressed with a sour cream, Gorgonzola (Italian blue cheese) and lemon juice dressing. We then topped off the salad with many salty fried Pancetta (Italian cured bacon) lardons as well as sweet and juicy cherry tomatoes. My guy friends that don't eat salads too often just loved it which to me is the best form of flattery. This was followed by a barrage of side dishes that included asparagus with a silky smooth lemon hollandaise, sauteed portabella and cremini mushrooms with garlic and thyme, and fried French noisette potatoes I get from Spec's Liquors.
All of these side dishes perfectly complemented the main event! The main dish was (I am not kidding) a five pound grass fed T-bone steak! I recently received this beautiful piece of meat as a gift from a client of mine out in Johnson City. My client, Mr. O'Bannon, butchers an entire cow each year feeding both his family and I am sure many others as I was very lucky to receive such a nice cut directly from him. The meat was seasoned simply with good sea salt I get from Argentina and coarse ground pepper corns. The taste was phenomenal; juicy and not too fatty with a lingering sweetness.
As if this was not enough, for desssert I served a decadent chocolate course. I made a white chocolate crème brulee with a chocolate sugar crispy toppping. Needless to say the enitire meal was scrumptious and  more importantly it fostered a lively discussion of politics, women, the economy, social issues, and sports amongst good friends that lasted for hours. It was a moment in time that I had a part in creating and that felt good.
The significance of cooking for someone is not so much based on getting to eat the food that we love but more so ejoying it in the company of good friends that appreciate the effort. See, every creative act in the kitchen demands that you organize, work hard, and push yourself beyond your normal limits. But in other areas of life these type of endeavors result in something that is utilized like a tool, sits on a shelf like a handbag, hangs on a wall in an art gallery, or is otherwise meant to be displayed, preserved, or admired. Food on the other hand and more importantly specially prepared food just disappears! There is unfortunatey nothing left to show for it taking away the lasting impression you feel it deserved. Consequently in the end, a dinner, no matter how spectacular, marks a moment in time and nothing more which actually is a good thing. Good because it means that, with cooking, the act of the creation is the entire gift, and a steak dinner feast like I created for my friends is the finest thing I can give the people I love: a way to celebrate the rare and wonderful act of sitting down together, right here, right now.