Cream of Mushroom Soup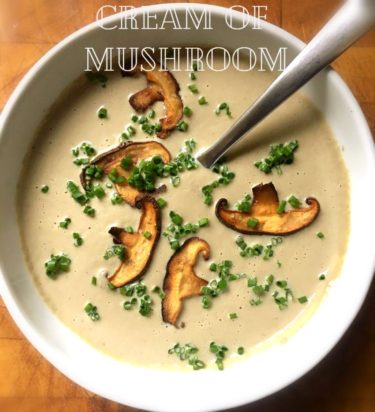 Recipe provided by Chef Crusco Catering in Austin, TX
Ingredients
2 tbsps. Unsalted Butter
3 tbsps. EVOO
1 Yellow onion – peeled and roughly chopped
4 garlic cloves – peeled and roughly chopped
20 Fresh Cremini Mushrooms – cleaned and roughly sliced
10 Fresh Button Mushrooms – cleaned and roughly sliced
10 Fresh Shiitake Mushrooms – cleaned and roughly sliced (set aside 20 slices for garnish)
8 Dried Porcini Mushrooms – Process into a fine dust using a spice grinder
Sea Salt/Pepper
1/4 cup Cognac
6-8 cups of Mushroom Stock – you can use Chicken or Vegetable stock
1 bundle of Fresh Thyme (roughly 10-12 sprigs)
3-4 Bay leaves
1/2 cup Half and Half
3-4 tbsps. Fresh Chives – finely chopped for garnish
Directions
Melt all butter and 2 tbsps. evoo in a large pot over medium heat. Add onion and garlic, and saute until softened, about 5 minutes.
Add the mushrooms, in two batches if necessary, and season with salt/pepper and the Porcini dust. Cook, tossing occasionally, until they have released all of their juices and most of the liquid has evaporated.
Add Cognac, and cook, scraping up any browned bits from the bottom of the pan with a wooden spoon, until the liquid has evaporated, about 2 minutes.
Stir in Mushroom stock, thyme and bay leaves; bring to a boil. Reduce heat, and simmer, stirring occasionally to allow flavors to blend, about 30 minutes. Remove the herbs.
Pour the soup in small batches into a blender or food processor; carefully puree until smooth, and return to the pot. Stir in half and half; taste and season with salt and pepper if needed.
Set a saute pan on high heat with the last tbsp. of evoo. Once almost smoking, put in the sliced mushrooms and sear on each side until golden brown. Remove from the pan and set upon paper towels.
To serve, ladle the soup into a bowl and garnish with the seared mushrooms slices, fresh chives and serve immediately. Enjoy!