Sausage, Zucchini & Kale Soup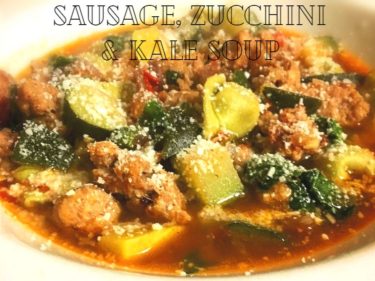 Recipe provided by Chef Crusco Catering in Austin, TX
Ingredients
3 Links Mild Italian Sausage – casing removed and broken into pieces
1 tbsp. EVOO
Salt/Pepper – to taste
1 yellow Onion – fine dice
3 Garlic cloves – fine dice
1 tsp. Red Pepper Flakes
1 tbsp. Tomato Paste
1 Can Whole Tomatoes – crushed with hands
2 Zucchini – cut into 1/2 inch cubes
1 Squash – cut into 1/2 inch cubes
3-4 cups Stock – can be vegetable, pork or beef
3 cups Kale – stems removed and leaves roughly cut into strips
Pecorino Romano Cheese – for garnish and seasoning
Directions
Heat EVOO in a large pot on medium-high heat. Add Sausage pieces and cook until crispy and fat is rendered. Remove the sausage from the pot and set aside.
Add onions and cook for 1-2 minutes. Add the garlic, red-pepper flakes, and tomato paste. Cook, stirring occasionally, until the tomato paste starts to change color (2-3 minutes).
Add tomatoes; cook until some liquid evaporates, 1 minute. Add zucchini and squash. Season with salt/pepper. Add Stock and Kale; bring to a boil. Reduce heat to a simmer and taste. Adjust as needed with salt and pepper. Add the Sausage pieces back into the pot.
Cook for 10-15 minutes or until the vegetables start to become tender.
When ready to serve, ladle into large bowls. Garnish with grated Pecorino Romano and drizzle more EVOO on it if desired. Enjoy!