Vegetable Cobb Salad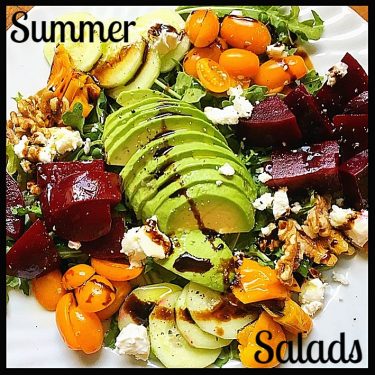 Recipe provided by Chef Crusco Catering in Austin, TX.
Ingredients – Salad (8 servings)
2 cups Fresh Spinach
2 cups Fresh Arugula
2 Avocados – peeled and evenly cut into 1/4 inch slices (fanned out)
1 Cucumber – peeled and sliced into 1/4 inch circles
24 Cherry Tomatoes 🍅 – sliced lengthwise
3 small Beets – boiled until for tender, peeled and cut into 1 inch pieces
1/3 cup Walnuts – toasted in a saute pan and broken into coares pieces
8 Mini Peppers – roasted and cut into 1 inch peices
1 small log Goat Cheese – crumbled
1/2 cup EVOO
1/2 cup Aged Balsamic Vinegar – buy at Con' Olio
Sea Salt & Fresh Ground Pepper
Directions:
To make the Salad, add the Spinach and Arugula (mixed together) to a large plate or platter. Place the fanned out Avocados in the middle of the Platter.
Place half the Cucumbers, Tomatoes, Beets, Walnuts and Mini Peppers on one side of the platter and the other half on the opposite end of the platter.
Sprinkle the crumbled Goat Cheese all over the Salad.
Dress with good EVOO and Con' Olio Aged Balsamic Vinegar.
Season with Sea Salt & Fresh Ground Pepper. Enjoy!