Private Chef-taught Cooking Classes in Austin
Cooking Lessons at Home
Ever dreampt of mastering the art of cooking like a professional chef? Well, Austin offers an array of personalized cooking classes that cater to your culinary desires. In this blog post, we will explore the exciting world of private chef cooking class ideas Austin has to offer, with hands-on experiences, interactive sessions, and specialized techniques, all led by a local culinary expert.
Key Takeaways
Discover Austin's diverse food scene and refine culinary skills with personalized cooking classes tailored to dietary needs.
Experience the joy of hands-on cooking while developing healthier habits and mental well-being.
Learn essential skills from an expert chef, including knife techniques, grilling, pasta making & wine pairing for a memorable experience.
Personalized Cooking Classes in Austin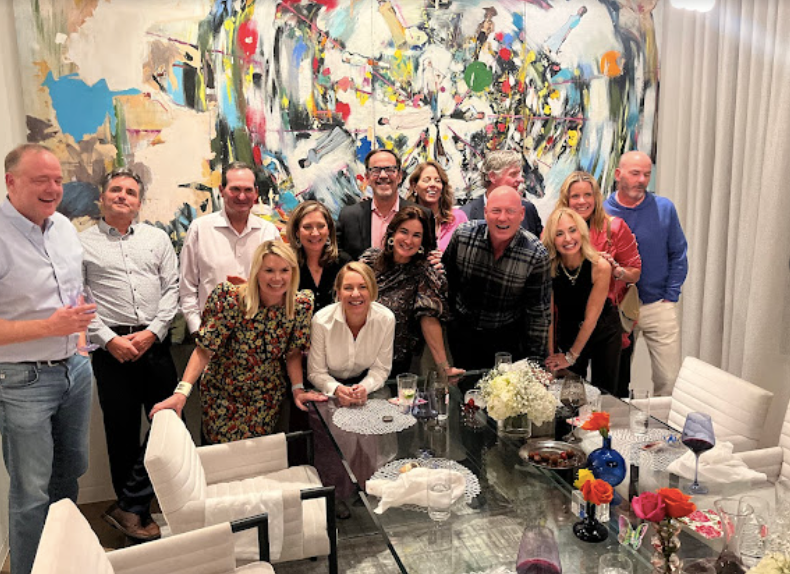 Renowned for its diverse food scene, downtown Austin is a culinary paradise. Delve into the city's flavors by enrolling in a personalized cooking class. These classes offer a unique opportunity to learn from an expert chef, who will guide you through the process of creating mouth-watering dishes tailored to your preferences and dietary needs.
With options ranging from hands-on cooking classes to customized menus, you can refine your skills and dazzle your friends and family with your culinary accomplishments, especially if you love cooking.
Don't hesitate! Begin your flavorful journey by exploring the best cooking classes in Austin.
These Austin-based classes are a great way to bond with your family, learn something new, and get inspired and excited about the joys of cooking. We've designed our experiences with your comfort in mind, which is why we'll handle all of the tools and ingredients. All you need to do is sit back, relax, and enjoy learning new skills and techniques, all while exploring various dishes from all around the world.
Hands-on Cooking Classes
Imagine being able to:
Perfect your knife skills
Learn new cooking techniques
Create delectable dishes from scratch
Receive guidance from an experienced chef
All of this is possible through hands-on cooking classes in your home. These classes offer an engaging and immersive learning experience that will leave you eager to explore the culinary world further.
Not only will you enhance your cooking capabilities, but you'll also gain:
Familiarity with your own kitchen
Increase cultural understanding
Develop self-confidence
Have a blast
Additionally, these classes can positively impact your mental well-being and foster healthier dietary habits.
Indulge yourself in the exciting and engaging world of hands-on cooking classes, where an expert chef, passionate about his craft, shares their knowledge and love for cooking.
Customized Class Menus
No two palates are the same, and that's where customized class menus come into play. These menus cater to your specific dietary preferences and restrictions, ensuring that your cooking class experience is tailored just for you. These classes will open up a whole new world of flavors for you to explore.
Fun and Interactive Experience
Are you ready to take your cooking experience to the next level? Fun and interactive private cooking lessons are the perfect way to do just that. These classes offer a memorable experience that will have you laughing, learning, and bonding with fellow participants as you engage in exciting interactive demonstrations.
Invite your friends or family members and set off on a culinary adventure promising a fun experience for all participants.
Lessons with a Private Chef
Many chefs have spent their lives honing their passion for cooking, and they love to share these skills with their students. From exotic gourmet foods to Texas favorites, our chefs can teach anyone how to cook almost anything.
Cooking is about more than just following recipes, which is why our classes focus on getting you excited about the underlying principles of cooking. Your private chef will help you learn how to prepare before you start cooking, as well as how to identify fresh, wholesome ingredients that will add maximum flavor to your cooking.
If you're planning a dinner party for your friends and family, a hands-on class can be a memorable experience. Your kitchen will make cooking your favorite food for people you love a pleasure. Our chefs will be with you at every step of the way, from prep to execution, and even cleaning up, giving you and your loved ones a menu and experience that they'll never forget.
Learn Cooking Skills from a Professional Chef
Many people love cooking but feel that they don't have the skills to cook anything more complex than a basic family dinner. If you want to hone your techniques or learn new recipes in a style you're not familiar with, our private chef cooking classes in Austin may be just what you need.
Your teacher has the knowledge necessary to help you prepare the menu of your dreams, regardless of skill level or kitchen space. We firmly believe that half of the fun of learning is creating something from scratch, even if you may not achieve perfect results the first time.
Hands-on lessons can take your culinary abilities to the next level. If you've dreamed of preparing dishes that will wow all of your Austin foodie buddies, then learning from a professional chef is the best way to go. Our classes are fun, educational, and will ignite a passion for cooking that will stay with you for the rest of your life.
Chef Carlos Crusco: Argentine and European Cuisine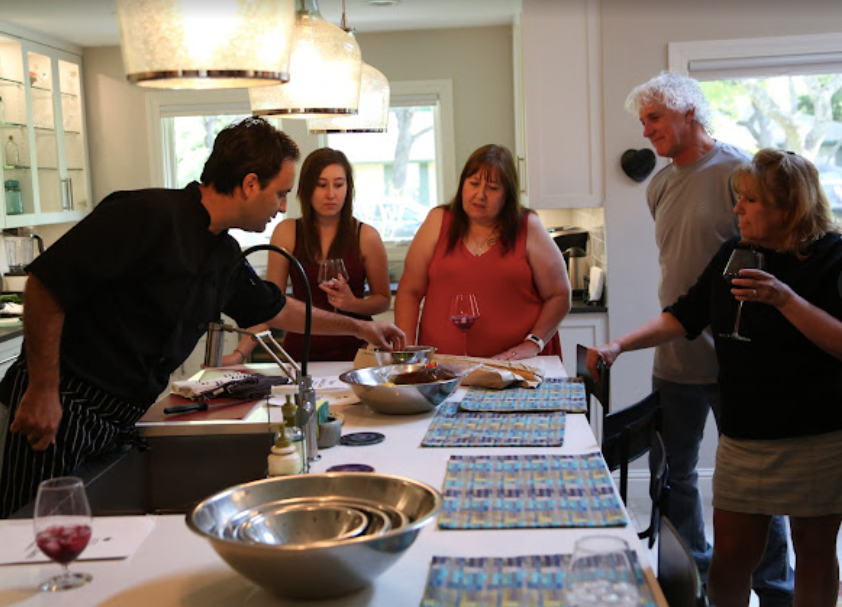 Chef Carlos Crusco is a highly regarded chef who specializes in Argentine and European cuisine. With a wealth of experience under his belt, Chef Carlos is ready to share his expertise and passion for cooking with you.
Whether you're interested in learning some of the most popular Argentine recipes, such as Asado and Empanadas, or delving into European culinary delights, Chef Carlos has you covered. Get ready to embark on a flavorful journey with Chef Carlos Crusco.
Specialized Cooking Techniques and Skills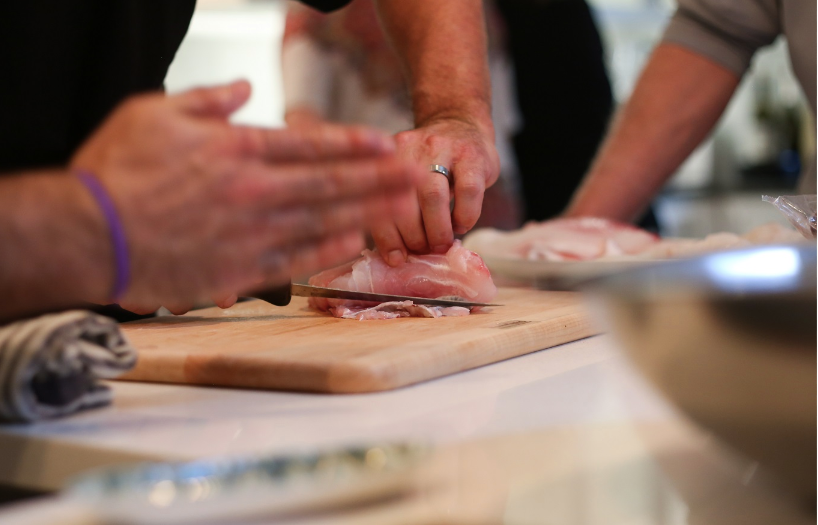 Beyond the personalized cooking classes, Chef Crusco also offers a range of specialized cooking techniques and skills for you to master. From knife skills mastery to grilling, these classes provide an opportunity to acquire new skills and build confidence in the kitchen.
Guided by expert chefs, you'll uncover trade secrets and enhance your culinary skills significantly.
Knife Skills Mastery
Mastering knife skills is essential for efficient and safe food preparation. A sharp knife and proper technique will enable you to swiftly and precisely cut, chop, and slice ingredients, saving time and reducing the risk of injury.
Attending a knife skills class in Austin will teach you professional knife handling, making your kitchen time both safer and more enjoyable.
Grilling Meat Dishes
We will teach you the art of meat grilling in the comfort of your own kitchen or backyard. Tailored to your individual skill level, our sessions are designed to elevate your technique, introduce you to expert tips, and guide you through delectable recipes that will leave a lasting impression on your guests. Prepare to master the fine art of grilling and establish yourself as a consummate host or hostess.
Pasta Making Perfection
There's nothing quite like the taste of fresh, homemade pasta. With Austin's pasta making classes, you'll learn the secrets to creating perfect pasta from scratch. Under the guidance of expert chefs, you'll master the art of pasta making, from preparing the dough to cutting and shaping the pasta.
Roll up your sleeves and prepare to craft delectable pasta dishes that will amaze your guests at your next dinner party.
Wine Pairing Competency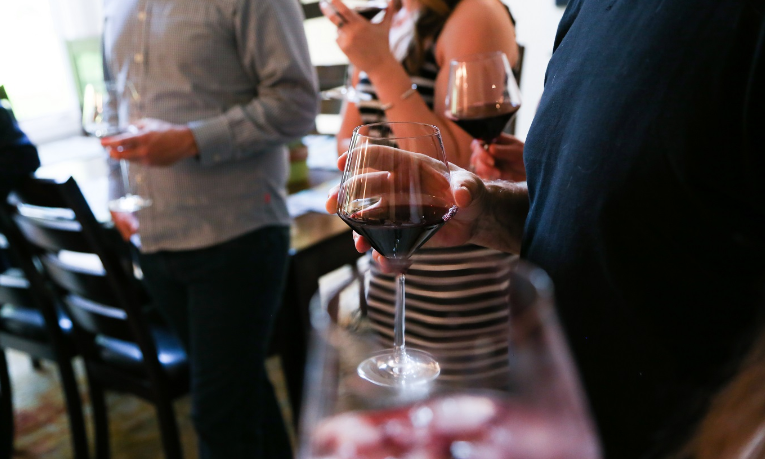 A great meal can be elevated to new heights with the perfect wine pairing. In Austin's wine pairing classes, you'll learn the fundamentals of pairing food and wine to create a harmonious balance of flavors.
Whether you're a wine enthusiast or a novice looking to expand your knowledge, these classes will provide you with the skills needed to enhance your dining experiences and impress your guests with your newfound wine pairing competency.
Hosting a Dinner Party with a Private Chef
Imagine hosting a dinner party where you can relax and enjoy the company of your guests while a private chef takes care of all the cooking. Sounds too good to be true? Well, it's a reality in Austin, where you can enlist the services of a private chef to plan, prepare, and execute a memorable dinner party for you and your guests.
In the forthcoming sections, you'll be guided through the steps of hosting a dinner party with a private chef, including:
Menu planning
Shopping
Hands-on meal preparation
Elegant table setting
Menu Planning and Shopping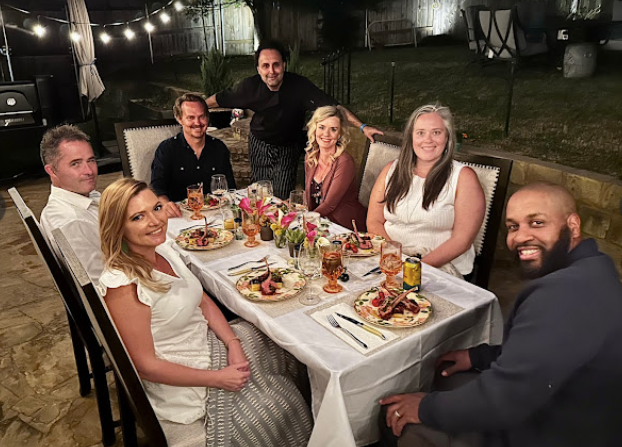 Hosting a dinner party with a private chef begins with menu planning and shopping for ingredients. Collaborate with your chef to create a menu that reflects your tastes and preferences, as well as those of your guests. The chef can also accommodate most dietary requirements, ensuring that everyone at the table can enjoy the meal.
Once the menu is finalized, your chef will advise you for your trip to the local grocery stores and specialty shops to source the freshest ingredients for your dinner party.
Hands-on Meal Preparation
The day of the dinner party, your private chef will guide you through the hands-on meal preparation process. You'll have the opportunity to:
Learn new cooking techniques
Ask questions
Gain valuable insights from your chef
Collaborate on creating a delicious meal
This hands-on experience allows you to hone your culinary skills while working side-by-side with a professional chef, ensuring a memorable and enjoyable evening for you and your guests.
Elegant Table Setting and Presentation
A key component of a successful dinner party is the table setting and presentation. Your private chef can help you create an elegant table setting that reflects the style and ambiance of your event. From selecting the appropriate tableware and arranging the cutlery to creating a beautiful centerpiece and arranging the food, your chef will ensure every detail is taken care of.
With the expertise of a private chef, your dinner party will be a sophisticated and unforgettable experience for you and your guests.
Cooking Classes for Groups of Friends
While learning new cooking skills is great, it's even better with friends. One of our most popular personal chef services is our group class. During this class, we help each person create a meal from scratch. We bring the ingredients, tools, and knowledge; all you need to supply is a kitchen.
A hands-on cooking class at your home is a great way to bond and form new relationships. Our in-person chefs ensure that every person gets to learn something from the experience, whether it's honing knife skills, making pasta from scratch, or discovering that sushi isn't all about the fish.
Our group experiences cater to every taste, and we're happy to focus on as many dishes or recipes are you want. We've found that a popular event is when each person prepares a portion of the meal – someone can focus on starters while others focus on mains or desserts. This way, every person learns more about their favorite dishes, which all come together in a menu that you won't soon forget.
Cooking Classes for Couples
The ability to cook is incredibly sexy, especially in the gourmet capital of Austin, Texas. Food is a great way to express love, and our couples class takes this lesson to the next level. It's a great gift for the budding foodie in your life and an amazing way to learn and develop a love of food together.
During the class, our chef will guide you through a menu of your choice. You get to create dishes from scratch, knowing that the food you make will taste great and contribute to the romantic evening. Our farm-fresh ingredients take the recipe to the next level, and we always end off with something sweet.
We take care of everything during the hands-on class, including getting the ingredients and bringing any necessary tools to your Austin home. Working in the comfort of your own kitchen makes the experience less stressful and more romantic, as you and your partner learn how to make fresh, delicious dishes that you'll both enjoy.
Our chef is always available during the class to help with any issues you may have. This class aims to teach you that food is fun, even if it doesn't always go to plan.
Cooking Classes for Kids and Families
Cooking classes aren't just for adults; kids and families can also benefit from engaging in these educational and entertaining experiences. In Austin, a variety of cooking classes cater to kids and families, promoting healthy eating, education, and confidence in the kitchen.
In the following sections, we'll explore how these classes can help kids and families develop essential cooking skills, learn about nutrition, and have fun in the process.
Healthy and Nutritious Meals
Teaching children how to prepare healthy and nutritious meals is a valuable life skill that can set them on the path to a healthy lifestyle. By exposing kids to a variety of ingredients and cooking techniques, they can learn to make informed decisions about their diet and develop a love for cooking.
Austin's cooking classes for kids and families focus on creating balanced, delicious meals that are both enjoyable and beneficial for their health, while also introducing them to the diverse Austin food scene.
Fun and Educational Experience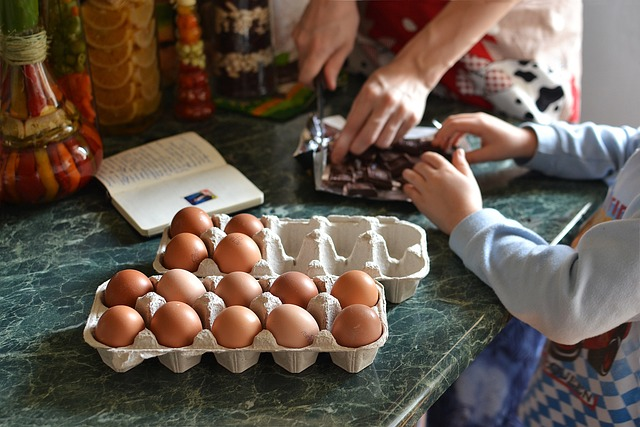 Cooking classes for kids and families in Austin offer a fun and educational experience that the whole family can enjoy. These classes provide an opportunity for kids to learn new skills, explore different cuisines, and bond with their family members.
With a variety of hands-on activities and engaging lessons, these cooking classes create an exciting and interactive environment where kids and families can learn, laugh, and create lasting memories together.
Building Confidence in the Kitchen
Building confidence in the kitchen is essential for kids and families alike. By learning essential cooking skills and techniques, children can gain the confidence needed to tackle new recipes and develop a love for cooking.
Austin's cooking classes for kids and families nurture these skills in a supportive and motivating environment, helping children feel at ease and confident in their abilities. Consider enrolling your child in a cooking class today and witness their blossoming confidence.
What Makes Chef Crusco Catering the Best Cooking Classes in Austin
If you're looking to host the most memorable dinner party season or want some private cooking lessons in your home, then our personal chef services are perfect for you.
Your private chef will teach you how to get the most out of gourmet foods using the highest quality ingredients in the city. We've helped people plan these events all over Austin, and we've streamlined the process to make it as simple as possible for you.
All you need to do to take advantage of this fantastic Austin in-home cooking class service is sign up on our site.   Choose a cuisine that you'd like to cook, and let us know about any allergies or dietary restrictions that we need to consider.
About a week before the lesson, your chef will send you a preparatory email that contains the recipes in the class and what you need to have on hand. Usually, these events are informal, and all we need from you is some guests, a kitchen, and the willingness to learn about your chosen style or menu.
Expertly Trained Chefs
We're not the only professional chef service in Austin, and we're not even the only one to offer in-home class services. What sets us apart from the rest is our commitment to quality. Every chef on our team has trained under Chef Crusco, and we have received over 115 5-star Google reviews.
We thoroughly vet every chef, not only on their ability to cook great food but also in their ability to teach a class. Some of our chefs are great with kids, while others specialize in a particular style of food.
Knowing our chefs helps us pair them to the right events for their skill set, ensuring you have an incredible evening.
Relaxed Atmosphere
Food preparation can sometimes feel incredibly stressful, especially when you're cooking for someone you want to impress. Our class helps foster a more relaxed atmosphere, where your chef will tailor every aspect to your skill level. Don't worry if you don't have the best-equipped kitchen – we'll work with what you have.
Cooking Techniques Appropriate to Any Level
Before the class, your chef will get in touch to get an idea of your skill level and confidence in the kitchen. They'll also identify what you want from the experience and customize the menu and ingredients with that in mind. No matter what your skill level, you'll get a lot of enjoyment out of your private Austin, Texas cooking class. Book your class HERE.
Summary
In conclusion, Austin offers a diverse range of personalized cooking classes that cater to individuals, kids, and families alike. From hands-on experiences and specialized techniques to fun and interactive sessions with expert chefs, these classes provide an opportunity to learn, grow, and connect with others through the love of food. So whether you're looking to hone your culinary skills, explore new cuisines, or simply have an enjoyable time with friends and family, Austin's cooking classes have something for everyone. Now it's time to embark on your culinary journey and discover the delicious possibilities that await you!
Frequently Asked Questions
What types of personalized cooking classes are available in Austin?
Austin offers a variety of personalized cooking classes, including hands-on experiences, tailored menus and interactive sessions with an expert chef. Chef Carlos Crusco is Google's highest rated personal chef in Austin, with a perfect 5-star review score.
Is Chef Crusco well-known in Austin's culinary scene?
Chef Carlos Crusco is renowned chefs in Austin's culinary scene and is Google's highest rated personal chef in Austin, with a perfect 5.0 star rating.
What specialized cooking techniques can I learn in Austin?
In Austin, you can learn specialized cooking techniques such as knife skills mastery, grilling, pasta making, and wine pairing.
Can kids and families benefit from cooking classes in Austin?
Cooking classes in Austin can be extremely beneficial for kids and families, as they can help foster healthy eating habits, provide educational opportunities, and give them more confidence in the kitchen.
How can I host a successful cooking class/dinner party with a private chef in Austin?
Of course! Collaborate with your private chef to plan and prepare for a successful dinner party in Austin. Your friends will never forget the occasion!